High School
After returning back from a restful winter break the second group of first year design students explored photographic composition and vantage point. Composition refers to where the photographer places the subject in the frame. For example the subject can be in the center, left, or right of the frame. Vantage point refers to the location of the camera in relation to the subject. The photographer can hold the camera above the subject, below the subject and anywhere in between.
We looked at the work of various photographers and examined how they use the camera to tell a story. The purpose of the activity was to teach students that there were an infinite number of ways that a subject could be composed in a photo frame. The activity also gave them the chance to experience that they too could construct a more powerful photograph by first considering what they wanted the photograph to communicate about themselves to their audience.
Here is the cover page of the Fall 2009 zine which contains a selection of work produced by half of the Year One Design students. The zine is on its way to the publishers. Check back soon for more work.
Master guitarist, KEIJI YOSINOKO from Japan facilitates Cross-Cultural Music Connection clinic at Facing History School's African Music Class under the Urban Arts TA, Harold Akyeampong.
As part of its Community Connection and Multicultural/Diversity program at Facing History School, Urban Arts Partnership's African Percussion studio hosts Cuban Music Professor, D. Gimenez in a Music Appreciation Clinic.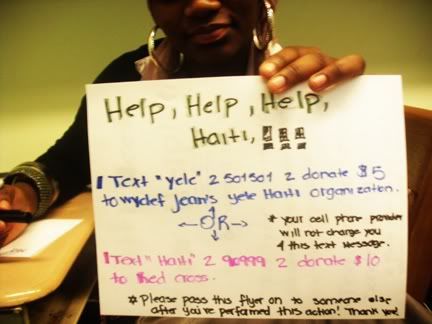 The earthquake hit Haiti during the last week of classes at Facing History High School. Knowing I'd get some grumbles, I decided to forgo a party, and take some action. With one class period of the semester left, it had to be something that could happen in an hour and 10 minutes.
I did some thinking about how to most effectively engage youth in relief efforts, knowing that:
a) most youth are not making much money and
b) won't be traveling and
c) asking other people to donate is fine, but they are their own "target donation audience." plus,
d) it is empowering to be able to make the contribution out of your own pocket, which often youth aren't able to do.
Here is how high school students can engage in a one-shot class in helping Haiti:
1. Begin with reading an article about Haiti and showing photos of the devastation. Discuss. In my experience, the photos are where the "story" becomes real. Very, very important for students to have a visual understanding of the devastation in order to connect.
2. Offer the perspective of "little ripples" making big differences. You might want to share the ideas from my 2009 project, "The Little Ripple Project" (see short video) or Sallome Hralima's iPromise campaign.
3. Share information on how to donate SMALL AMOUNTS through text messages. This engages the youth where they are at (technology) and a price they can potentially afford. Two organizations you can do this with: Text message "YELE" to 501501 to donate $5 to Wyclef Jean's Yele Haiti organization. Text message "HAITI" to 90999 to donate $10 to Red Cross.
4) Make handmade flyers with this information on them to pass out. Each student commits to giving at least one flyer to a friend and asks that once the friend makes their contribution, to pass the flyer on to another friend. The idea is that if each student makes five flyers and the flyers pass through 50 hands of people who see how easy it is to donate... well, do the math!
I hope this helps you to engage your youth... or friends... or anyone.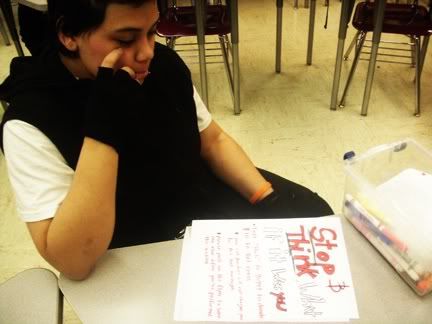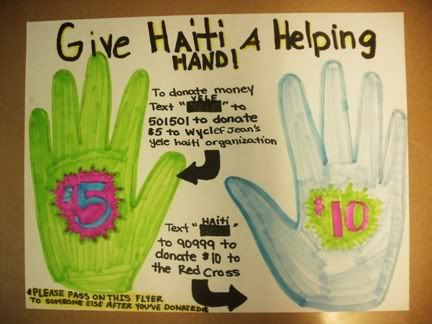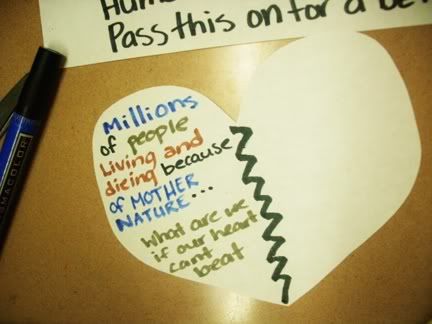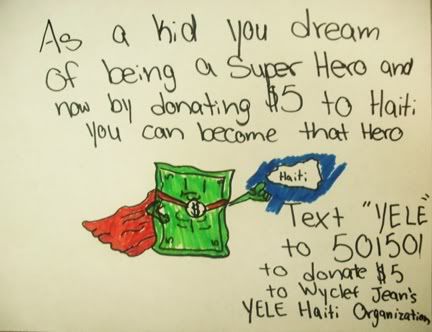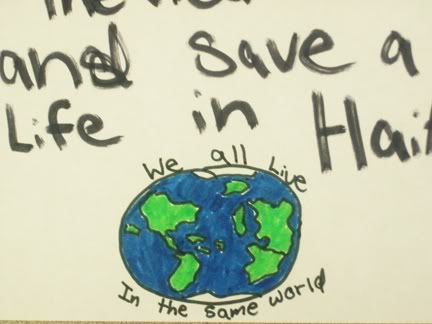 .